Last week I talked about a few reasons that I try to avoid processed foods, this week I'm going to give you a few alternatives to common snack foods. I'll even be nice and give you better and best options.
Popsicle 
Original:
Orange Pop: water, high fructose corn syrup, corn syrup, sugar, orange juice (from concentrate), contains 1 percent or less of each of the following: malic acid, citric acid, guar gum, natural flavor, locust bean gum, annatto (for color).
Are you kidding me?  High fructose corn syrup, corn syrup and sugar in the first 4 ingredients?!?!
Better:
WATER, STRAWBERRIES, SUGAR, CAROB BEAN GUM, GUAR GUM, CITRIC ACID, COLOR (BEET JUICE, TURMERIC EXTRACT), NATURAL FLAVORS, ASCORBIC ACID (VITAMIN C).
Much better, still added sugar but heck even the coloring is from natural items!
Best:
Watermelon puree,  fresh blueberries, fresh strawberries, kiwi, peach, fresh cherries
I don't think I really need to say why these are best….click on the picture for the recipe. 
Granola
Original:
Better: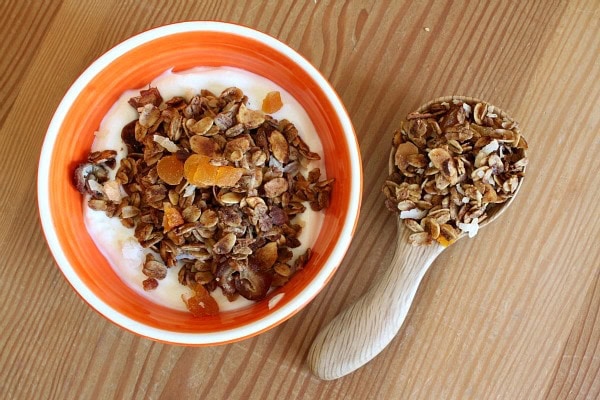 Old-fashioned rolled oats, almonds, brown sugar, grated orange zest, ground cinnamon, grated fresh nutmeg, unsalted butter, maple syrup, flaked coconut, toasted, raisins, dates, figs, blueberries, cranberries and/or apricots
Again don't think I need to explain click the picture for the recipe.
Its really quite easy guys, read the ingredients and make your own with all 'real' foods when you can. Here are a few more ideas for you I've tried to list things you can find in your 'normal' grocery store:
Freeze your own fruit- When a banana (for example) is about to go bad slice it up, place the slices on a tray and freeze them then once solid transfer to a bag ready for smoothies.

La Banderita Flour Tortillas– this one is has the least ingredients that we can find.  While still not great its our go to because while easy to make at home I just don't have the time.
Smuckers Simply Fruit Jelly– There is better out there but I need things I don't have to go to a co-op for 😉
Skippy Natural Peanut Butter with Honey (or without)- It still has added sugar but no hydroginated oils or other weird things.
Old Home All Natural Plain Yogurt-Bonus for me they are local.