On Monday I was a guest poster over at the Expressions Vinyl Blog, (lots of grate ideas over there) but today I wanted to bring the project here to LLG  so you can see what I was upto this weekend.
Eek! I was a featured link over at Natural Nesters!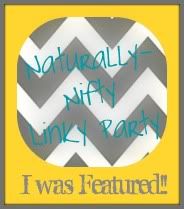 Everyday labels with vinyl
As you can see in the picture below I've tried a few different ways most recently being dry-erase marker but no matter what it seems to fall of or rub off.
As you can see below.
So I gathered up my supplies really not much was needed a Cricut or other cutting machine, Indoor Vinyl and some Transfer Tape.
Next I started cutting out the labels, I started with the jars that had colored lids, I wanted to make sure they matched.
I've found an exacto knife to be the best tool for weeding out the small bits in the center of the letters.
After weeding off the extra vinyl use transfer tape to lift the vinyl off and start in the center of the words rubbing out towards the edges.
I continued on with the rest of the jars till they were all completed. I've gota few more to do but I think you get the point.