While looking through a linky post this week I stumbled upon this idea from Krista @ While He was Napping. I really liked this idea so I asked if I could share with you and she said yes!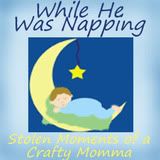 I seem to always have grandiose ideas and dreams for date night.  And I'm always disappointed because I'm not in a situation to always make them come to fruition.  So, for my back up plan when I realize "It's Thursday and I still don't have anything planned!" I came up with The Date Night Jar.  I found some things I want to do around our area or other ideas that would be fairly easy to pull together.  I typed them up, printed them out and cut them apart.  Then I folded them and put all my strips in an empty Mason jar (which, of course, I cutesy-ied up).  Then I let my hubby choose one on Thursday night or Friday morning (or if I forget, I just pick one).  Usually, I don't let him see it… build a little suspense and anticipation… but sometimes I do.  Your call.  Then I plan it and bam, date night is good to go!  See how easy that was!
What a great idea huh? MAC and I sat down the very day I read this and made our list of dates that we want to do around the city. Hope you do the same!
~Amber